Posted at Oct 6, 2017 7:11 am
THE OTHER TWIN is on sale from Oct 6th to Oct 11th! For only $1.99. CLICK HERE for retailers.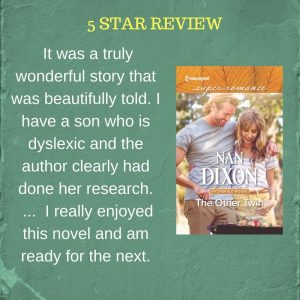 Who can resist a neighbor in need? 
Nathan Forester doesn't know the first thing about kids. So when the daughter he never knew existed arrives on his doorstep, he needs help, fast! His unlikely ally is next-door neighbor and single mother Cheryl Henshaw. Nathan and Cheryl don't exactly see eye to eye, but neither can say no to a helping hand.
Renovating Fitzgerald House is Nathan's chance to finally prove he's no longer the unreliable twin—and it seems possible with Cheryl by his side. Suddenly their practical arrangement has become something much more. Trust isn't easy, but they're stronger when they work together.