Posted at Jun 16, 2015 4:35 pm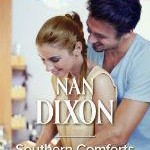 My Golden Heart sister, Asa Maria Bradley, has pulled together a list of books by debut authors from 2014.  she is planning on dissecting each book and SOUTHERN COMFORTS is on her list.
Stop over and check out all the debuts from our 2014 Golden Heart group.  We call ourselves the Dreamweavers.  And these women can write!