Posted at Nov 1, 2014 9:01 pm
I'm sure every author's heart pounds at the feel of their debut novel in their hands. I swear it smelled better than any other book I've ever held. (Yes I gave it a sniff!) Of course the books arrived while I was out of town. It seems to be the pattern for this book. First I mislaid my phone when my agent was calling to tell me I got The Call. Now with the actual books, my daughter opened up the box.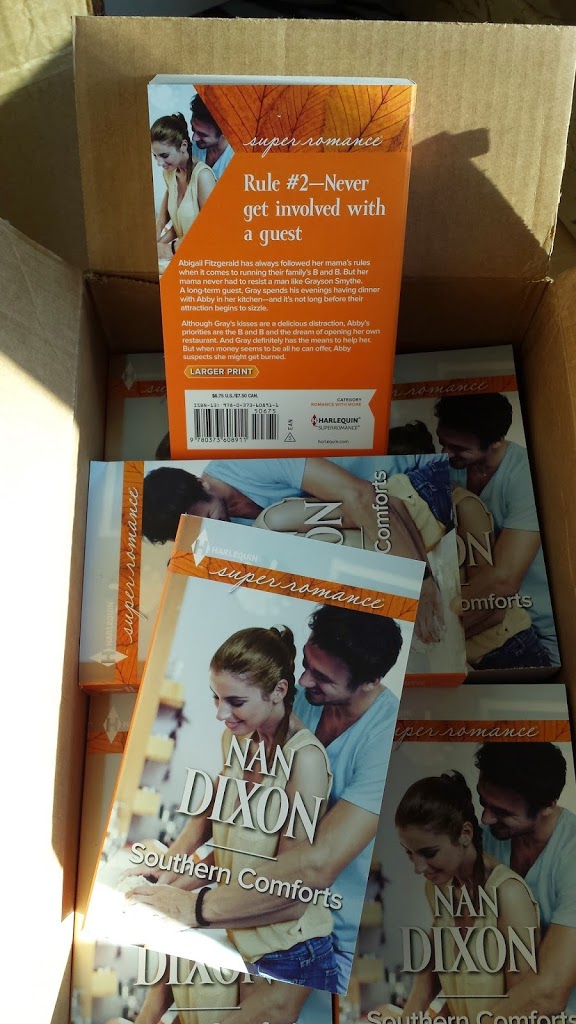 But who cares — Aren't they beautiful?
I haven't really done a cover reveal. The cover hit the sales sites before I was ready. So this is my reveal! And I love that my editor is using one of the Bed and Breakfast Rules on the back cover.
SOUTHERN COMFORTS is about the Fitzgerald sisters' struggle to run their family's B and B. Mamma Fitzgerald started turning the decaying family mansion set in the heart of Savannah's historic district into a B and B years ago. Now her three daughters run the B and B and Mamma's rules live on.
Unfortunately, when Grayson Smythe comes for a long-term stay at Fitzgerald House, Abigail Fitzgerald just might have trouble sticking to Rule #2 – Never get involved with a guest.
I'm a month away from release date, December 1, and so excited. You can pre-order wherever books are sold!