Posted at Feb 1, 2012 9:06 pm
When my husband and I decided to do a driving tour of the eastern half of the US, I took that trip as an opportunity to spend a little more time in Savannah. I have a book series set in Savannah. Even though the internet is a wealth of information, there is nothing like smelling and listening to a city's rhythm to help authenticate a setting.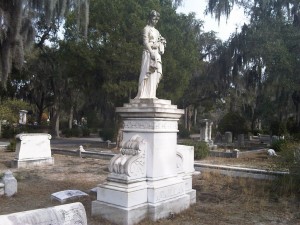 On a cold February day – cold for Savannah – not Minnesota, we spent 3 hours in Bonaventure Cemetery. The 160-acre Cemetery played a major role in John Berendt's Midnight in the Garden Of Good and Evil. It was here that the narrator sipped martinis. Live oaks, draped with moss, line each road and shade the thousands of gravesites. According to our guide, there are over 40,000 bodies buried in Bonaventure.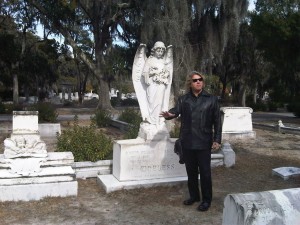 I could never imagine spending 3 hours wandering a cemetery but our tour was fascinating. We met Shannon Scott, owner and guide extraordinaire from Sixth Sense Savannah, near the Jewish gate of the cemetery. Shannon has been hanging around cemeteries all his life. One of his first jobs in the Midwest was a caretaker for an old cemetery. His tour talked about first hand ghost encounters, an intimacy with a number of the families and a dramatic flair that kept us wanting more.
The cemetery is set up in family plots. The plots are typically raised above the non-paved roadways. Some plots are well-maintained, others marked "do not maintain" have fallen into decay.
There are amazing sculptures on the most visited plots. John Walz moved to Savannah and became one of the leading sculptures. Little Gracie Watson is one of his finest pieces. Gracie, much beloved in Savannah, died of pneumonia at the age of six. A collection was taken up to create a monument for her grave and Walz created the sculpture from a photo in 1890. Shannon said that when the moon is full, people swear the statue actually feels warm. The grave is so popular with visitors, tours and ghost hunters; an iron fence has been added to secure the site.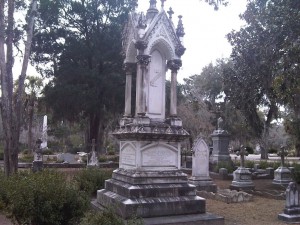 The Wilmington River adds a pastoral background to a number of the sites. A number of the plots have benches, and it was east to image Savannahians spending an afternoon wandering amongst the incredible monuments or picnicking at their favorite location. Perhaps, family coming to visit loved ones.
Near the river is the burial site of a young woman who committed suicide. The family buried the young woman in the family plot, but her back is turned away from the family.
The three hours and the tour were well worth the blisters on my feet. The next time you are Savannah give Sixth Sense a call and enjoy a fact filled entertaining tour of history filled cemetery – Bonaventure – Good Fortune!