Posted at Nov 30, 2020 4:16 am
Today is Release Day for STAINED GLASS HEARTS – Book 2 in the Big Sky Dreamers series. You can purchase STAINED GLASS HEARTS at Amazon.
Early reviews are coming in and I loved this line out of one of the 5 Star reviews.
"One joy filled day … I laughed and cried with all the characters … it made me glad to take a chance on this book." Andrea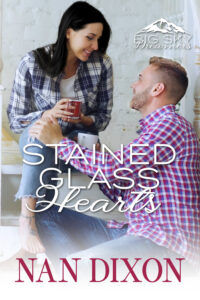 STAINED GLASS HEARTS – Books 2 in the BIG SKY DREAMERS Series is an Fake Relationship – Fixer-up to Fabulous book. (The books can read separately.)
Want to know a little bit about the book?
Both homes and hearts can be restored.
Mitch, a rigid and emotionally reserved attorney, has a passion for restoring old buildings. By himself. He doesn't believe in intimacy or happily-ever-after. His parents' marriage showed him it didn't exist.
Tierney's a gregarious and talented stained glass artist who needs to heal from her broken her engagement while completing the biggest commission of her life, a church. She needs a studio and finds the perfect space in a dilapidated mansion on the bluffs of the Mississippi.
Unfortunately, the mansion comes with strings. The Historical Society grant requires a couple to restore the house. Mitch and Tierney team up through Tierney's Realtor cousin and convince the Society they are a loving couple and win the grant. But a year is a long time to keep up the act.
Especially when the line between acting and reality starts to fade.