Posted at Dec 1, 2015 1:15 am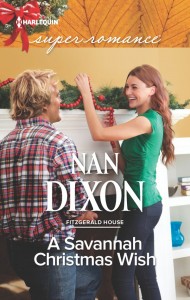 I'm so excited A SAVANNAH CHRISTMAS WISH is finally out in the world.  This is Book 2 in the Fitzgerald House series.
This is Bess Fitzgerald's story.  She's a landscape architect, but loses her job and her apartment on the same day.  Somehow she always seems to loses everything she loves.  She must figure out how make a living, find a place to live and tell her family.
To celebrate the release, I'm running a Giveaway for the month of December for a $50.00 Amazon Gift Card.
Enter to win!!
The Fitzgerald sisters share mulled wine on Christmas Eve. What food/drink says Christmas to you?