Posted at Jan 3, 2017 5:00 pm
Happy New Year!  THE OTHER TWIN has lift off! Here's a little bit about the book. If you've been reading the series, you should recognize the hero and heroine. I had a lot of fun writing Cheryl and Nathan's story.
Who c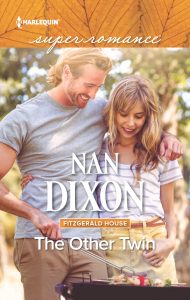 an resist a neighbor in need? 
Nathan Forester doesn't know the first thing about kids. So when the daughter he never knew existed arrives on his doorstep, he needs help, fast! His unlikely ally is next-door neighbor and single mother Cheryl Henshaw. Nathan and Cheryl don't exactly see eye to eye, but neither can say no to a helping hand.
Renovating Fitzgerald House is Nathan's chance to finally prove he's no longer the unreliable twin—and it seems possible with Cheryl by his side. Suddenly their practical arrangement has become something much more. Trust isn't easy, but they're stronger when they work together.
I had a blast writing the two kids in the story, even if Josh ended up being a bit of a brat. And poor Issy has a lot of mother issues.
To celebrate the release of the 4th book in the FITZGERALD HOUSE series, I'm giving away a $25 Gift Card.  Just tell me you're favorite kids story, either your own–or kids that you know.
Make sure you double click to to get the comment box.