Posted at Aug 22, 2014 5:00 am
I was lucky enough to get a quick peek at the book. It's out today from Decadent Publishing and is on sale for $0.99 until September 29, 2014 so go grab your copy!
Bad Traveler is a small town Contemporary Romance and all you foodies should be happy, since the heroine owns a bakery. (Books like this make me sooo hungry!)
Here's the book's recipe:
Recipes are a way of life for Gwen Jones. Take one single mother, her infant daughter and a business plan for a small town bakery. Combine with an eventful cross-country flight, chance encounter with her college crush and a dash of motion sickness. Stir in a few nuts, or family members, and large quantities of chocolate. Will this recipe be an oven oops, or as delicious as her alma matter's newest coach?
Having survived an attack in Afghanistan that cost him a leg and a wife, Kyle Collins developed a strategy to find meaning in life. He may be an assistant basketball coach but he refuses to sit on the sidelines. When the runs into the woman whose lips are as unforgettable as her brownies, Kyle decides to spice up Gwen's recipes.
When a secret ingredient is thrown into the mix, can their recipe for a happily-ever-after rise to the occasion, or will it end up a hot mess?
Lola's given us just a little taste of the book!
"Or we could go to my shop, drink some coffee or have cookies and milk. I have my keys."
"Perfect." His heart thumped as he put the car in gear. No one would bother them. They would be alone in a cozy space she'd created. The absence of students left the streets virtually empty. Her gloved hand covered his for the five-minute drive. After a few turns, they parked behind the store and entered through the kitchen.
"What will you have? Unfortunately, I have tons of inventory left from today." She opened the back side of the display counter, revealing about a dozen or so of six different types of cookies. "I swore I wouldn't sell day-old cookies, but I may bundle up some at a discount rate tomorrow since there are so many." The touch of sadness in her voice made him want to whip out his wallet and buy them all up.
"I'll take an oatmeal raisin, a chocolate chip, and…. Are those ginger snaps?"
"Actually, those are molasses cookies. They are spicy like a ginger snap, but different." She stacked an assortment of cookies on a plate. "It's my nana's recipe. See what you think. Coffee?"
"Don't make coffee on my account. I'm too wired already. I'd rather have milk."
"Me, too." She poured milk into a couple of mugs and started toward the corner table, which featured a plush, secondhand love seat. He followed with the cookies. A rapping on the window drew their attention to a couple outside. Gwen pointed to the Closed sign, but the couple persisted.
He walked to the door. "We're closed."
She rushed to his side, adding, "We'll be open Tuesday at seven a.m. We hope to open in the evenings starting in late January."
"I could have made a sale, but…." She sounded frustrated and tired.
"I think we should stay in the kitchen. I doubt people will bother us if we have lights on back there."
A spark returned to her eyes. "If we sit on the floor behind the counter, no one will know we we're here. They'll think someone left the lights on by accident."
Sitting side-by-side on the floor, backs against the counter, they set the plate of cookies between them along with their mugs of milk, handy for dunking. He picked up the firm molasses cookie with large pieces of sugar that stuck to his fingers. The crisp outside yielded to a softness that melted in his mouth. Sweet with a hint of saltiness to make it interesting, just like Gwen. Tonight, he'd see if she would melt in his arms, and his mouth. It was his night.
Oh nummmm!
When I asked Lola what her inspiration, here's what she told me?
Lola: For me, inspiration swirls in the ether until various pieces collide in my brain. Three factors came together for Bad Traveler.
1. There is nothing fun about flying cross country with an infant. I have been the screaming baby section and run through airports with car seats precariously dangling from the stroller. I have pretended turbulence is "super-fun bouncy ride in the sky" even though I'm more scared than the kids.
2. Living near the home of Seal Team 6, I grew more aware of issues facing veterans as they returned home from war. A series of reports in the Virginian-Pilot piqued my curiosity.
3. The bakery near me closed. I decided to invent one, which is much easier than opening a real one.
You can find more information of Bad Traveler here. Stop over and sign up to win a
$10.00 gift card to the winner's choice of Amazon or Barnes & Noble runs Aug 22
nd
through Sept 4
th
2014.
Here's a little bit about Lola Karns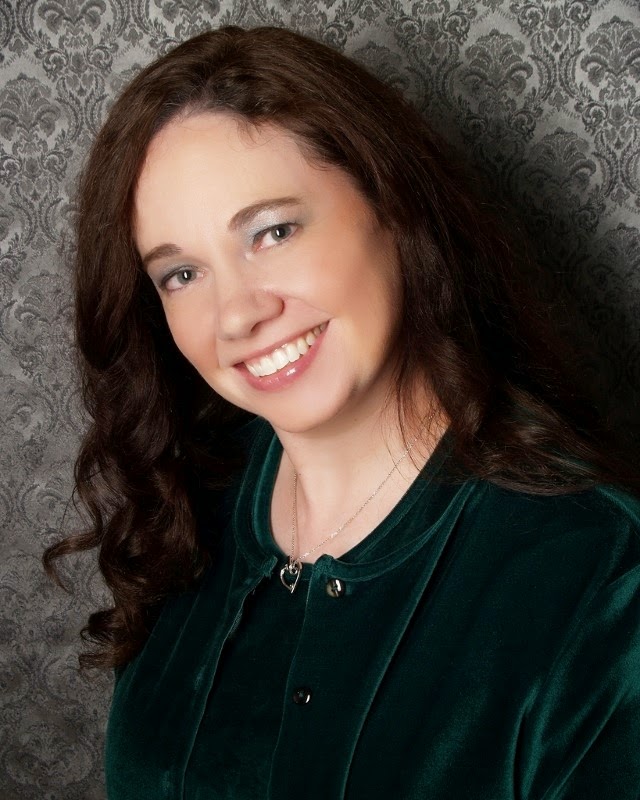 Having worked as a bartender, shipping clerk, concierge, document translator, European history doctoral candidate, and more as she moved through Illinois, Indiana, Ohio, New Jersey, Georgia, and Virginia, Lola decided she needed a more portable career. Writing fit the bill.
Lola currently resides in Minnesota with her husband, two children, two hairless cats and a fluffy ex-stray cat. When not writing, she enjoys baking, reading and drinking coffee.
Here's how to connect with Lola.