Posted at May 10, 2023 8:13 pm
I'm thrilled with the early reviews of CONNECTIONS – Book 2 in the Designer Children series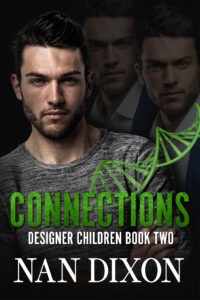 .
Here's what's being said.
"I really loved this book as much as I loved the first book. It is a very interesting plot and Nan Dixon keeps her readers wanting more. I love how she weaves this tale of romance and intrigue, and she has you in her grip from page one, wanting to find out what happens next. Kat and Ashe are explosive together, giving each other the space that they need but, in the end, wanting more from each other."  Kathleen – 5 Star Review
"This book has you gripped from beginning to end. It is a book that has everything. Yes it is different, but boy oh boy, it is great. I just couldn't stop reading it." Joyce 5 Star Review
These make my heart sing!!
If you're intrigued – you can pre-order the eBook HERE. Paperback will be available on Release Day – May 22, 2o23.
Here's a little bit about the book –
Someone wants them silenced.
Ashe Bristol, a recuperating quarterback, wants to make his father proud, something he's never accomplished. Ashe wants one more season out of his knee, then he can stop trying to earn his father's respect and figure out the rest of his life.
But when Ashe runs into a man who looks just like him, his world changes. And they find two more people genetically related to them. They are all the same age but have different parents, were born in different states, and have different birthdays. Someone wants to keep their connection secret and they don't know why.
Kat Phillips, an ambitious reporter, has the story that will ignite her career. She's been promised the exclusive story of Harris and Ashe's origins once they understand it. Kat's helping with their research, but she's been sworn to secrecy until they're ready to release the news to the world.
Kat has never been attracted to Harris, but his look-a-like, Ashe is irresistible. She and Ashe are focused on their careers and aren't looking for long-term. But being together in the midst of danger changes them. Keeping their relationship casual no longer works.
Then their faceless enemy tries to kill them.
Can they stay alive long enough to uncover why someone wants them dead?