Posted at Sep 4, 2015 1:43 am
I'm so excited to show off the cover for A SAVANNAH CHRISTMAS WISH!
This is Bess and Daniel's story.  I love that they got Bess's hair right.  Here's the back cover blurb.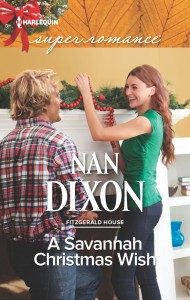 A relationship in need of renovation 
Bess Fitzgerald is thrilled to be overseeing the expansion of her family's B and B. Working with Daniel Forester, not so much. After one wild night, they agreed to stay out of each other's lives. The attraction still sizzles between them now, but Daniel's need to be in control and Bess's impulsive nature continually drive them apart. 
Keeping their relationship professional is harder than Bess anticipated. And it's not long before they give in to temptation. Suddenly it's clear Daniel needs her in a way she never thought possible. This may be the year Bess finally gets her Christmas wish!
You can pre-order the ebook right now.  I'll let you know when the print version become available.  A SAVANNAH CHRISTMAS WISH releases December 1, 2015.  I can't wait.  (Puppies and Christmas are involved.  And orchids!)