Posted at Aug 23, 2022 4:07 pm
I have a new series releasing September 21st — DISCOVERY, Book 1 in DESIGNER CHILDREN. And here's the amazing cover designed by Dana Lamothe!
Release date is September 21st, but you can pre-order the eBook now. Click here. The paperback will be available to order September 17, 2022.
The series idea happened a few years ago. I had dropped my daughter off at college in Ohio. The next morning I was just starting the long drive back to Minnesota and had on BBC news. They were playing an in depth report on embryo genetic modification. It got me thinking, what if a researcher modified her own embryos and then implanted them in women spread across the country. For the next 800 plus miles I plotted this romantic suspense series.
Here's the blurb.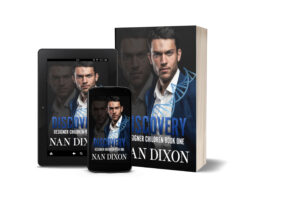 It was like looking in a mirror.
Harris Torrington, Houston's district attorney is ready to take the next step in his political career, running for governor. Then he crosses paths with Ashe Bristol, the new Houston Texan's quarterback and is shocked. They look exactly alike.
They aren't related but are the same age, born in different states and have different birthdays. Until he understands why he has a doppelganger, Harris worries this might hurt his political aspirations. To find answers, Ashe asks his friend, Dr. Sunee Miller, for help.
Sunee, an MD with a PhD in molecular genetics, dedicates her life to cancer patients. After testing Harris and Ashe's DNA, she's baffled by the results. The two men are unlike any genetic pairing in existence. What are they?
While trying to solve the mystery, Sunee and Harris fall for each other. But the more they uncover, the greater the danger.
Can they survive long enough to find the answers?