Posted at Jun 11, 2021 4:57 pm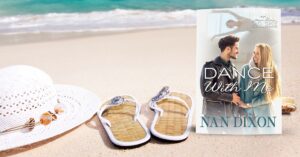 DANCE WITH ME, the 3rd and final book in the BIG SKY DREAMERS series, will be here in 17 days. That's just in time to take Sean and Nicole's story to the beach to celebrate the 4th of the July.
Here's what early readers are saying about the book.
"If you are looking for a good, contemporary romance, pick this one up. Really sweet." 5 Star Review – Goodreads
"Aside from the story being heartbreaking as well as heartwarming, it's obvious that the author did an in depth research on the lives of dancers. A life that though filled with lots of discipline, sacrifices, injuries, deformed feet etc, is one filled with joy for love of dance." 5 Star Review – Goodreads
It's up for Preorder – right now.