Posted at Dec 15, 2014 7:00 pm
We just had our local RWA chapter holiday party this weekend.  At my house.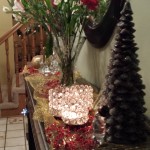 On Friday I volunteered to host the party, because the woman who was scheduled to have it had a family emergency.  I enlisted one of my sons to help decorate!  I felt I needed at least one Christmas tree up.  Everything was going according to plan.  The place was clean–at least the rooms that didn't have their doors closed.  I was just blowing my hair dry and still had an hour before anyone would show up.  Of course, someone thought the party started at noon instead of two!  But, being used to delegating, I put her to work while I finished getting dress!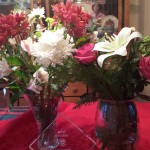 At the holiday party, MFW, my chapter, celebrates the successes from the year.  I received flowers for becoming PAN (Published Author Network).  (And another bouquet for taking on the party at the last minute!)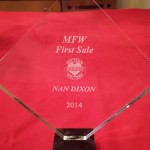 But my biggest thrill was picking up my First Sale plaque.  This is a group that understands all the work and time that has gone into getting SOUTHERN COMFORTS from idea to a bound copy of the book!  Years in the making!!
I will display this proudly in my office!
Nice to be able to TOUCH that first sale!!