Teaser Tuesday!
Only three weeks until A SAVANNAH CHRISTMAS WISH releases!  I thought I should give you just a little teaser–it is Tuesday after all.
Here you go!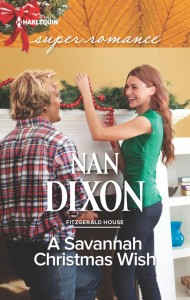 "So, this isn't a one-night stand?"
"I don't know what it is." Daniel dropped her hand and paced over to the stereo, pushing buttons to play a less intense song. "I'm having trouble keeping my hands off you while we work."
"I know what you mean." Her fingers tapped her skirt.
He nodded. "I don't want to mess up our working together."
"Okay." Bess waved her hands between them. "We'll ignore these sparks."
He moved across the room and grabbed her hands again. "Let's take a chance."
He was so close. The scent of sandalwood, lemon and wine filled her head. "What do you mean?"
He took another step and pulled her back into his arms. "We should check out the…possibilities. This is like the rooms we stripped down to the studs. Right now, everything is possible." Daniel cupped her face with his hands. "Are we on the same page?"
She could barely get words through the lump in her throat. "Okay."
"Good." He kissed her slowly.
If you're interested in pre-ordering–click on your preferred eRetailer.  If you want to buy a paperback copy–click on the Harlequin link.  (The 'H' in the diamond!)  Buy Links
Have a wonderful Tuesday!