POETIC JUSTICE is on Pre Order
Do you want to get my next book, Poetic Justice as soon as it releases? You can! It is now on Pre-Order.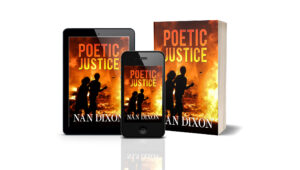 Just click the cover and it will take you to Amazon.
Here's a little bit about the book.
Give me back the bag, so no one else gets hurt.
Chase Cameron, named the New Face of Architecture, should be on top of the world. Instead, he's on the run. He stole a bag containing thousands of dollars from his partner's office. If he can get to Minneapolis, his former bodyguard and friend may help discover what the money so he can save his company.
At the airport, he evades the people searching for him, but he can't figure out how get away. Then he spots the shuttle his seatmate mentioned.
Quinn Holmes has a pesky helper gene. That's why she's shuttling poets from the airport to a conference.
Chase hops in her SUV, but he's spotted and the man takes down Quinn's license plate. To keep her safe, he detains her.
Quinn, desperate to get home to her son, tries to escape her kidnapper. But when Chase receives a text asking who she is, she finally believes him.
To flush Chase out, his partner kidnaps her son. Now Chase and Quinn are in a race against time to solve the money mystery and save her son.