Abby's Brandy Pecan Bars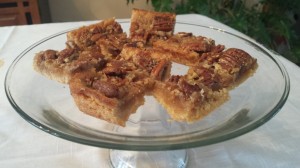 Heat oven to 350o
The Crust
¾ cup softened butter
¾ cup confectioner's sugar
1 ½ cups all-purpose flour
Cream butter and confectioner's sugar. Blend in flour. Press evenly in bottom of ungreased baking pan, 13x9x2 inches.  This can be thin since the base will rise.
Bake 12 to 15 minutes.
Filling
3 eggs
2/3 cup sugar
1/3 melted butter
½ to 3/4 cup brandy
3/4 cup corn syrup – light or dark
3 Tablespoons flour
1 ½ cups chopped pecans
Mix all ingredients together. Don't worry if the butter isn't thoroughly mixed. Spread over hot baked base and bake 20 minutes longer.
Cool: cut into bars. Enjoy!